More Than 60 Free Crochet Christmas Ornaments Patterns. The ultimate collection of free crochet Christmas Ornaments on the web. We have put together all the free crochet Christmas patterns we could find for you to create beautiful ornaments to decorate your home with.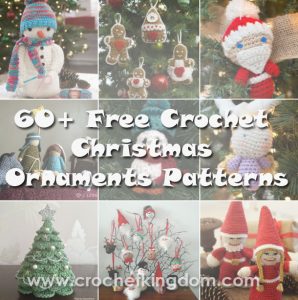 Free Crochet Christmas Ornaments to Make
DIY Christmas decorations not only help you save money for the holiday season, they also provide you with creative and unique ways to decorate your home with stunning home made items.
Below you will find crochet ornament patterns for Santa's, Angels, penguins, snowmen, candy canes, bells, Christmas baubles, snowflakes, stars and more!
To see even more Christmas crochet patterns than this amazing list go here: Free Crochet Christmas Patterns
Crochet Santa Ornaments
Make some very cute little Santa ornaments to hang on your tree and to decorate your house with these amazing free crochet Christmas ornament patterns.
Amigurumi Santa Ornaments
Perfect for having your tree be a reflection of your love of crochet, this little Santa is fun to make and will add to your Christmas traditions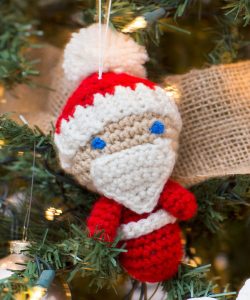 Mini Father Christmas
A miniature Father Christmas that you can make into a tree decoration, or add to a little festive scene.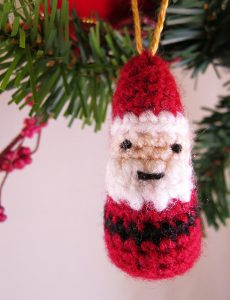 Santa Claus Ornament
A little crocheted stuffed Santa ornament, a perfect addition to your Christmas tree. He is about 5 inches tall and pretty lightweight.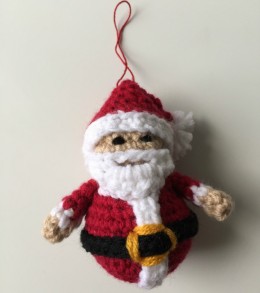 Santa Ornament
Whimsical Santa ornament top crochet with cute glasses.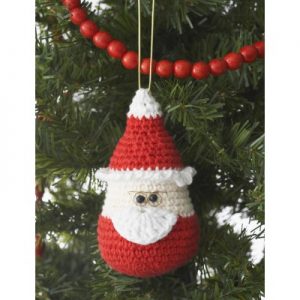 Santa's Head
An adorable tree ornament shaped like Santa Claus's head.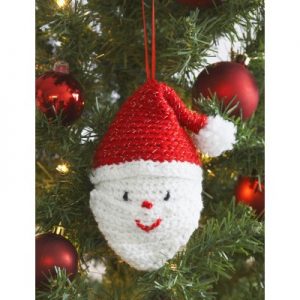 Meet The Kringles Crochet Pattern
Mr. and Mrs. Claus crochet amigurumi pattern for free to decorate your home with this holiday season!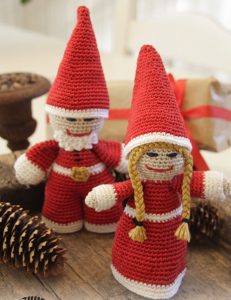 Santa Cookie Ornament
Cute little cookie with a Santa head to hang up on your Christmas tree.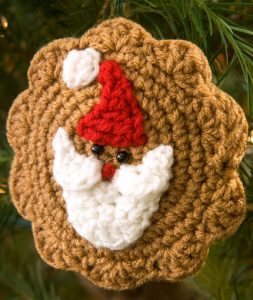 Crochet Angel Ornaments
Heavenly angels to crochet for decorating all over the home, from cute amigurumi angels to more classic crochet angels!
Silly Little Angel
The cutest amigurumi angel crochet pattern ever!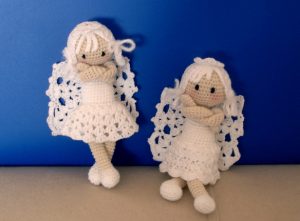 Amigurumi Angel Ornaments
Of all the free crochet Christmas ornaments available these little angels are some of the cutest! These sweet little angels are quick to knit ans would make great additions to your Christmas tree!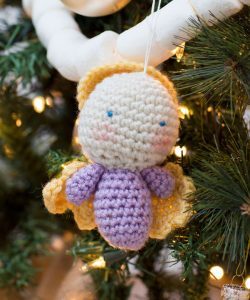 Christmas Angel Free
This Little Angel stands 6.5 inches tall to the top of her halo and her wings reach a width of 4.5 inches.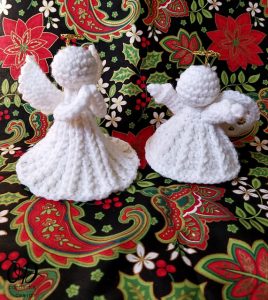 Tree-Topper Angel
Make your own beautiful tree angel crochet.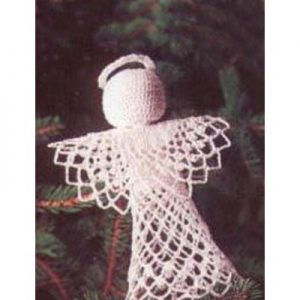 Crochet Snowman Ornaments
It is not a proper Christmas tree without a little snowman dangling from it, here are plenty of free crochet patterns to make for jolly snowmen!
Crocheting Snowman Free Christmas Pattern
Any crocheter will love having this cleverly designed snowman to display all winter long. Make him as a gift or make him for yourself! Instructions for making mini skein of Super Saver is included.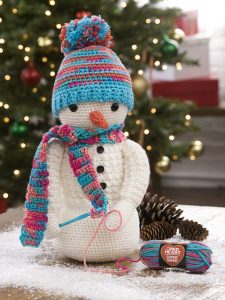 Mini Snowman
Here's another, pretty simple Christmas crochet pattern, for a wee snowman in a woolly hat and scarf.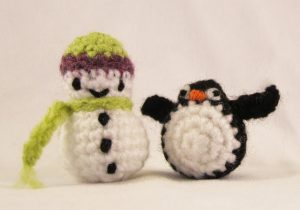 Olaf Snowman
Cute little snowman to crochet with scarf and hat!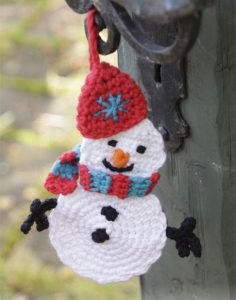 Snowman Ornament
Crochet up these cute snowman ornaments to hang up on your tree.

Assorted amigurumi ornaments featuring cute snowman characters, gingerbread men, penguins, robins, reindeer and more
Crochet an assortment of cute characters to hang up on your Christmas tree, so easy and quick to make and totally lovable.
Christmas Ornaments To Crochet Free
Cute amigurumi Christmas ornaments featuring Santa, reindeer, elves, snowmen and more!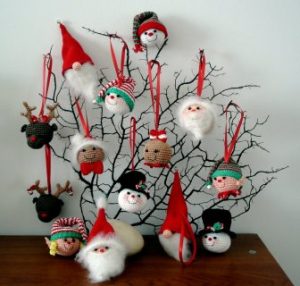 Amigurumi Ornaments
Amigurumi Ornaments for your Christmas tree! Make Santa and Mrs. Claus, an angel and a snowman.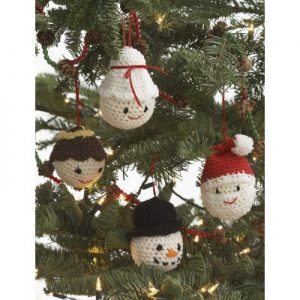 Little Christmas Mouse
A cute little mouse with a Christmassy red and green stripy sweater.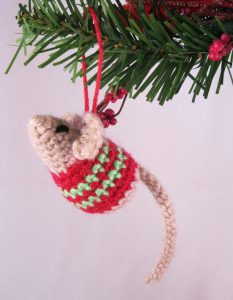 Little Soldier Ornament
This little crochet soldier is about 5 inches tall and with his cute top black hat and red and white uniform is the perfect addiction to your Christmas Tree.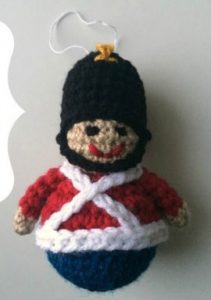 Wise Owl Ornament Free Crochet Pattern
Crochet this lovable little owl and display him on your mantel or nestled in your tree. He has all-knowing eyes and stays warm with a colorful scarf!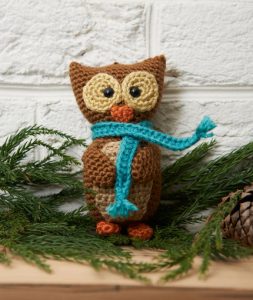 Hoot Owl Ornament
Whooo will be the cutest, little ornament on the tree? Crochet this owl in little time to add a quirky note to your tree.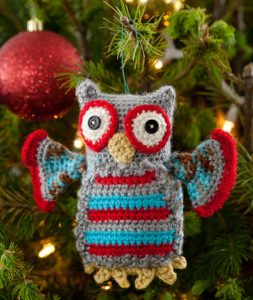 Snowman and gingerbread man
Snowman and gingerbread man crochet using 4 mm (U.S. G or 6) hook.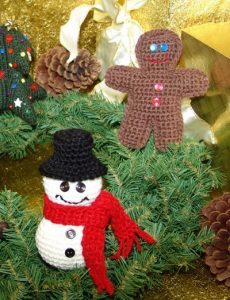 Gingerbread Tree Ornaments Free Crochet Pattern
Crochet a sweet gingerbread family to hang on Continued… the tree with their gingerbread house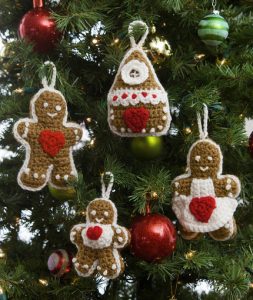 Three Amigurmi Crochet for Christmas
Make super cute amigurumi crochet ornaments for your Christmas tree featuring a snowman amigurumi, penguin amigurumi and little soldier amigurumi.


Christmas Characters Free Crochet Patterns
Cute round crochet ornaments featuring a snowman, elf, reminder and gingerbread man, these guys are the perfect ornament addition to your Christmas tree!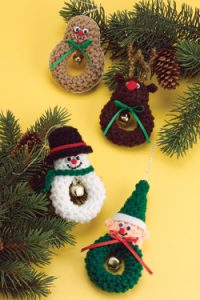 Tiny Crochet Penguin
A tiny crochet penguin, only about 3 cm/1.5″ tall.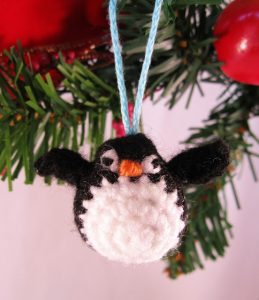 Tiny Christmas Robin
With this crochet pattern you can make yourself a tiny little robin, only about 3 cm/1.5″ tall.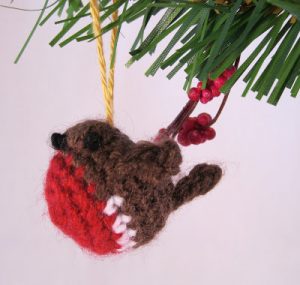 Hanging Gifts Free Crochet Christmas Ornament Pattern
Cute little presents to hang up on your tree.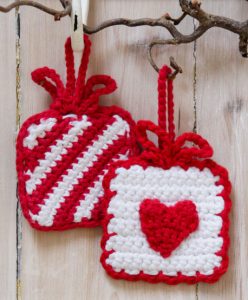 Crocheted Penguin Ornament
This cute little crocheted penguin ornament is the perfect size of hanging on your Christmas tree. It is about 5 inches tall.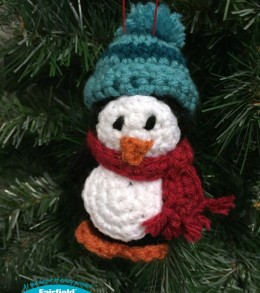 Reindeer Ornament
This family of reindeer ornaments will find a home under your tree.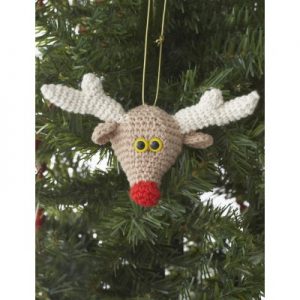 Crochet Christmas Trees
Christmas Trees Free Easy Home Decor Crochet Pattern
Cute and funky Christmas trees bring a smile to your face.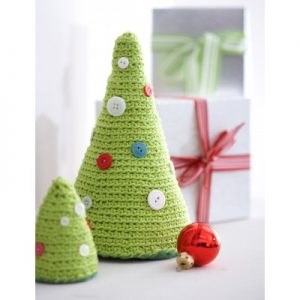 Gingerbread Tree Pattern
Sweet gingerbread tree for your holiday decorating.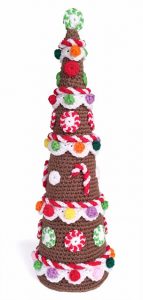 DIY – Crochet Christmas tree
Stunning little tree to crochet for Christmas.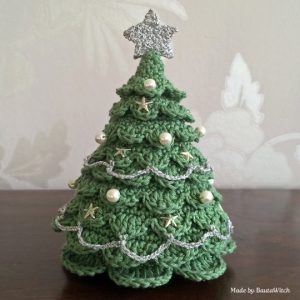 Crochet Christmas Stars and Snowflakes
Free Crochet Christmas patterns for stars, snowflakes and candy canes.
Assorted Snowflakes to Crochet
Four different snowflake designs you can use to decorate your home, office, or include with holiday gifts as a special surprise.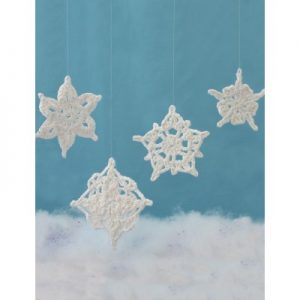 North Star Ornament
These North Star ornaments will always guide the way – to your Christmas tree, that is.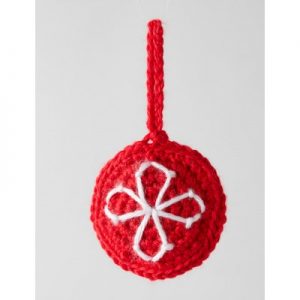 Christmas Star Ornament
Two color star to crochet for the holidays.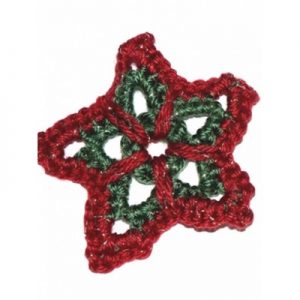 Christmas Stars Crochet Ornament
Cute crochet stars that are quick to make and perfect for hanging on your tree or make many and hang them up in a garland on your mantelpiece.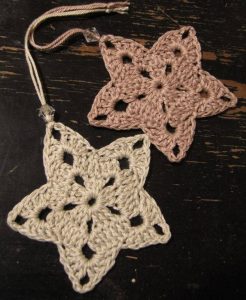 Top That! Christmas star crochet topper
Add a special handmade crochet star to the top of your Christmas tree!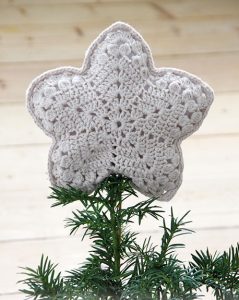 Elegant Christmas Heart
Lace heart crochet Christmas tree ornament pattern.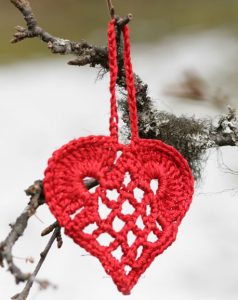 Free Christmas Tree Crochet Ornament Patterns
Various different crochet Christmas tree diagrams for an angel, a heart, a Christmas Present, Christmas tree and more!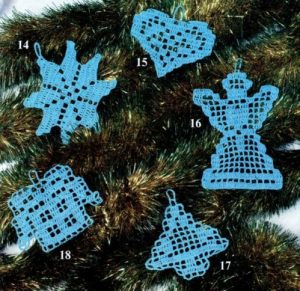 Star and Snowflake Crochet Ornament
Crochet a star and snowflake ornament with these easy to follow crochet diagrams.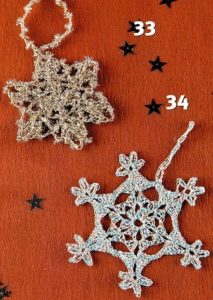 Candy Cane Ornament
Festive Candy Cane ornament for your Christmas tree.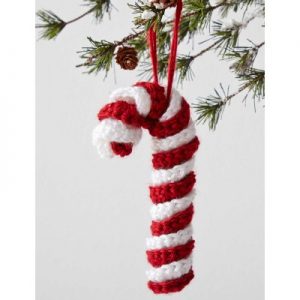 Patons Candy Canes and Wreaths Free Beginner Home Decor Crochet Pattern
These cute little candy canes and wreaths make great Christmas tree decorations.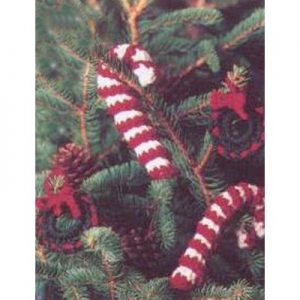 Bells, Flakes, and Tree Skirt Edging
Christmas decoration galore! Pattern includes snowflakes and bells to hang on your tree and edging to decorate the skirt.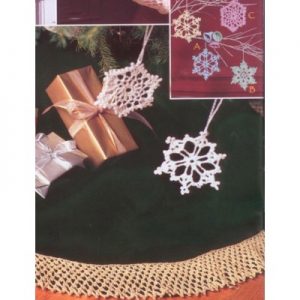 Crochet Christmas Bell
Crochet Christmas bell ornament pattern from Drops. Fun and festive Christmas bells to decorate your Christmas tree with!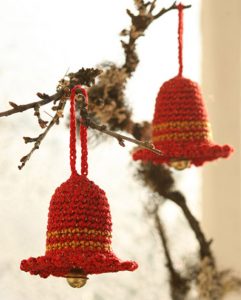 Crochet Basket Ornament
Here's the perfect little ornament to give to all your crochet friends!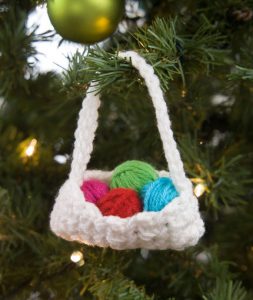 Crochet Christmas Wreath Patterns
Merry Christmas Wreath
Ho ho ho! Jolly Santas, wrapped presents, and stockings circle this very Christmasy wreath.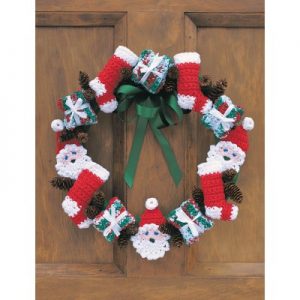 Seasons Greetings Wreath
A lovely seasonal wreath with bells and holly leaves to grace your door and greet visitors to your home.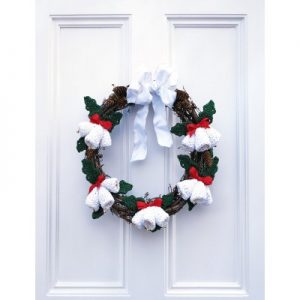 Christmas in Bloom Crochet Wreath Pattern
An amazing red flower crochet wreath pattern to make for Christmas!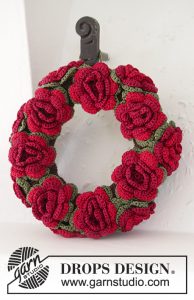 Open for Christmas!
Holly Leaf Wreath Crochet Pattern.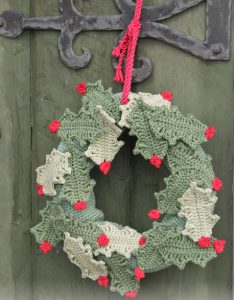 Grinch Wreath
Cool and funny Grinch wreath to crochet for this festive season.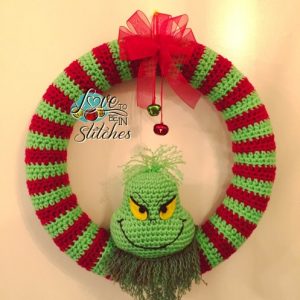 Crochet Christmas Bauble Patterns
A Christmas Bauble Tutorial
Colorful crochet Christmas bauble to make.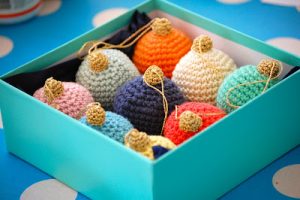 Roses in the Snow Ornament Christmas Crochet
A delicate lace Christmas tree ornament you can make at home that is unique and beautiful.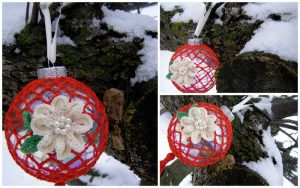 Starry Night Ornament
Add a festive touch to your holiday celebrations with this crocheted Starry Night Ornament.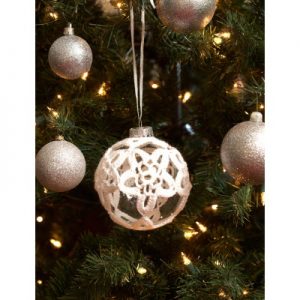 Christmas Crochet Bauble Cover
Crochet this Christmas crochet bauble cover!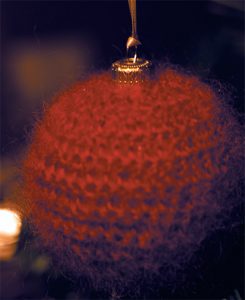 Crochet Advent Calendars
If you are looking for free crochet Christmas ornaments to make, try your hand at these more time consuming yet worthwhile crochet advent calendars to count down the days till that special day with your family!
Advent Calendar
This alternative Christmas Advent calendar can be made from oddments of yarn. Jemma Weston has used Kid Classic but any other yarn from your stash, that is suitable for felting, can be used as a substitute.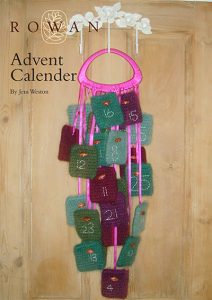 Crocheted Stocking Advent Calendar Free Pattern
Hang up these cute colorful stocking in the form of an advent calendar!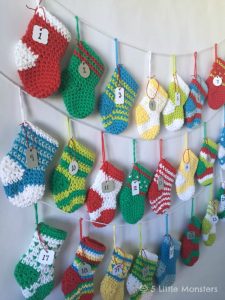 Crochet nativity Scenes
Crocheted Nativity Set
Amazing free pattern to crochet your very own nativity set!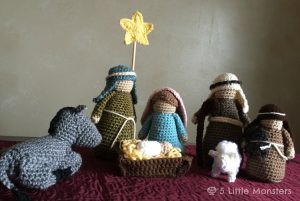 For those who also like to knit go here: free knitting patterns.