20 Free crochet t-shirt patterns for you to Download now and to start crocheting immediately, beautiful patterns for women.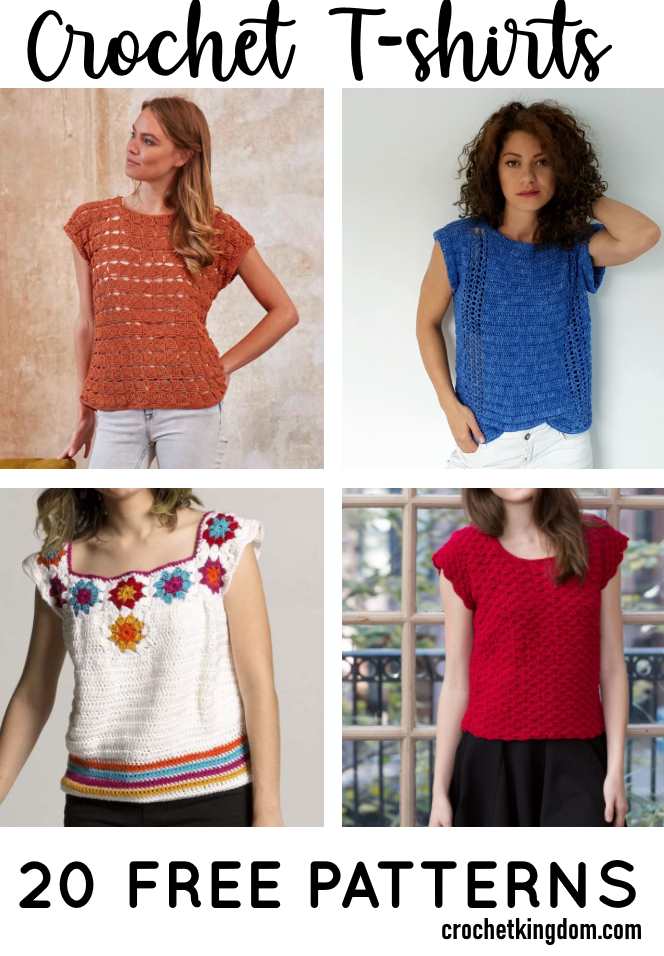 A great free tee crochet pattern for a shell stitch tee. The classic style of this crochet top can be worn all year round — on its own when it's warm, or under another jacket or sweater when the weather is colder. Enjoy this pattern that's a comfortable favorite among crocheters. An easy tee crochet pattern that's ideal for beginners.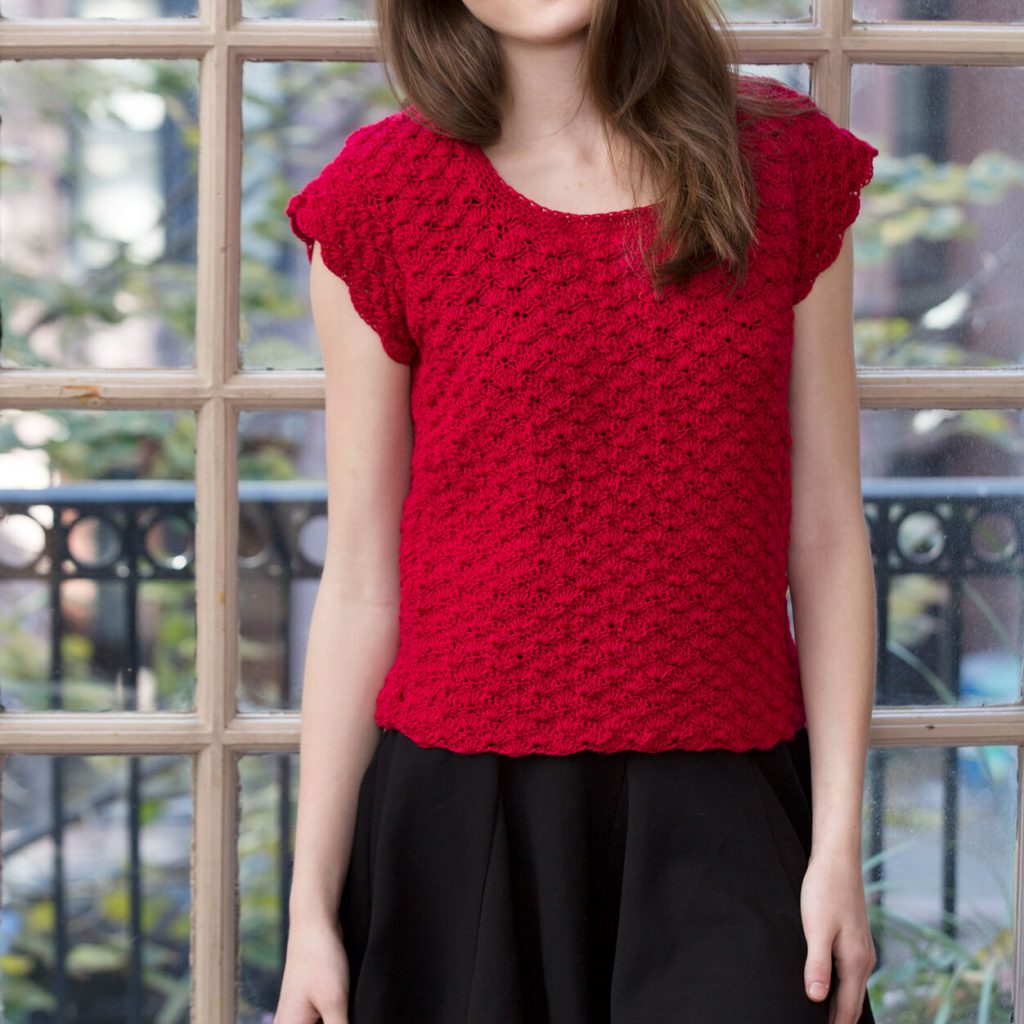 You'll look simply royal in this boat-neck tee covered with sparkling diamonds.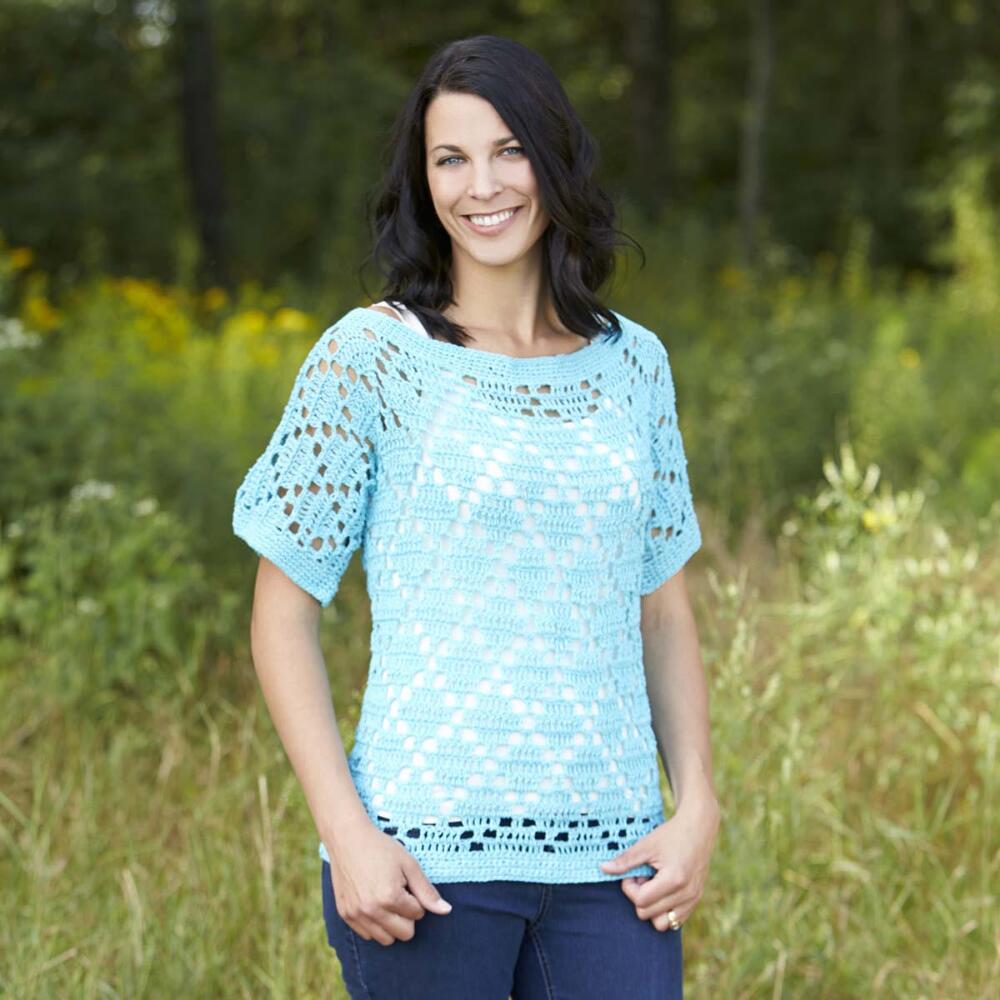 Allover single crochet is shaped for an hourglass fit in this springtime staple. The cap sleeves are more dynamic than dainty; the bold stripes more pirate than nautical! And, in a specially constructed cotton yarn, even single
crochet has incredible drape and elasticity.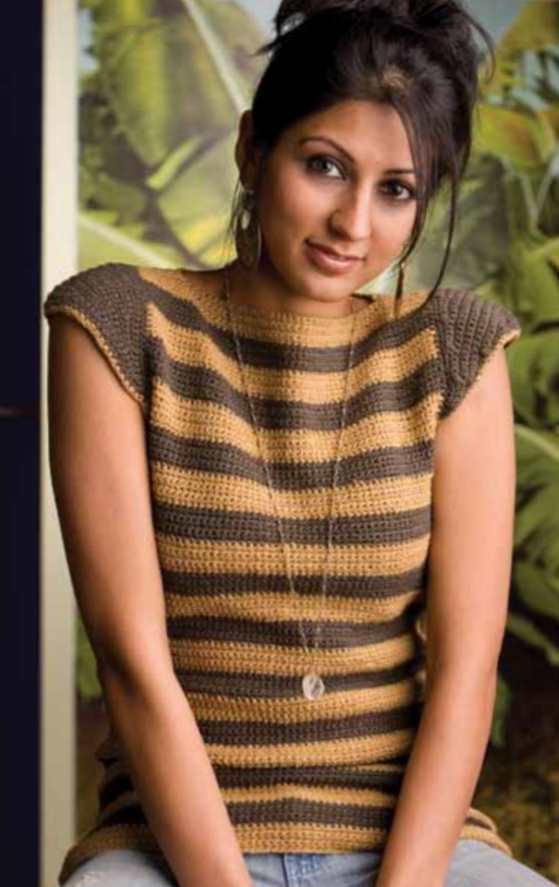 An elegant stitch and picot edging make this simple top an easy favourite for so many looks. Crochet a fashionable piece using Patons Grace in your selected color from the fresh, modern shades available. For the neutral version shown, use Natural color which creates a wonderful canvas if you love to finish outfits with stunning accessories. Dress it up or dress it down, this v-neck crochet top is a versatile item for your wardrobe.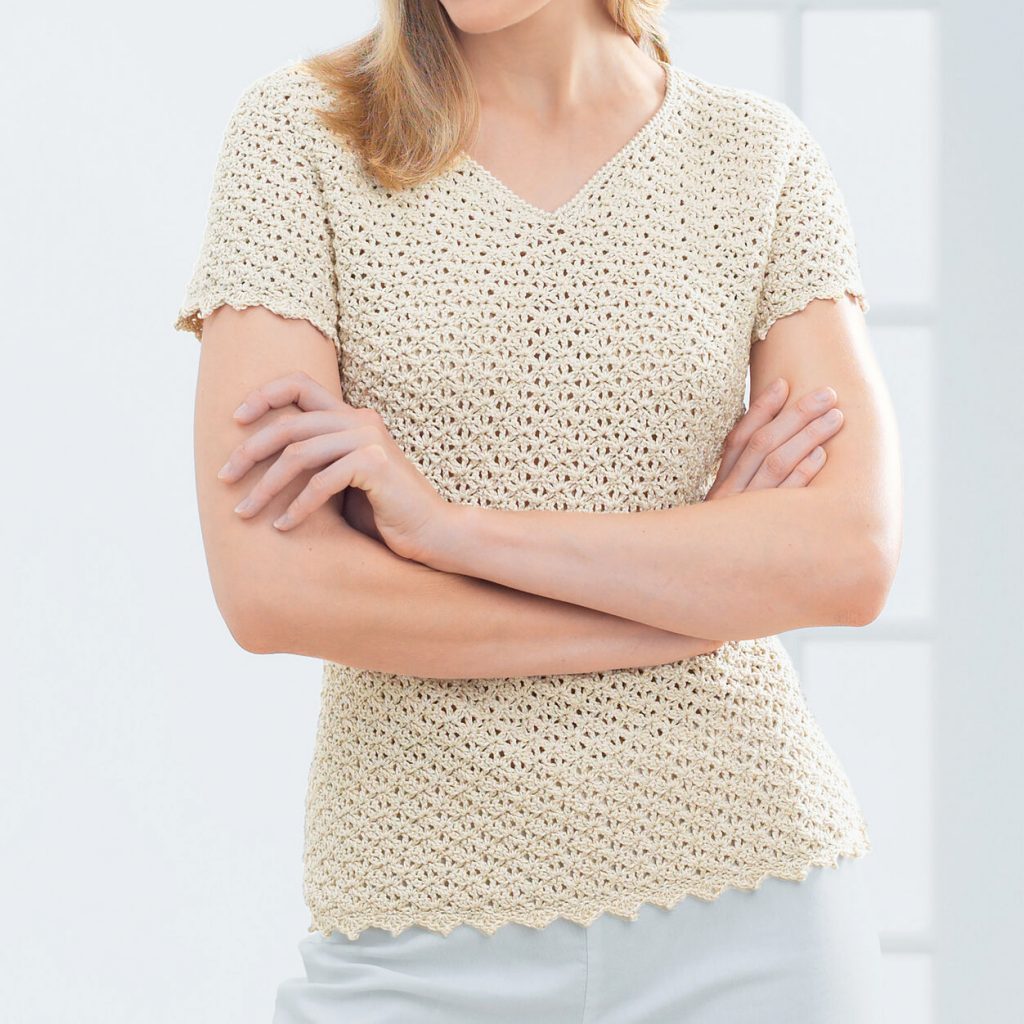 Perfect for summer, a striped mesh stitch tee with plenty of texture, fun to make and fun to wear.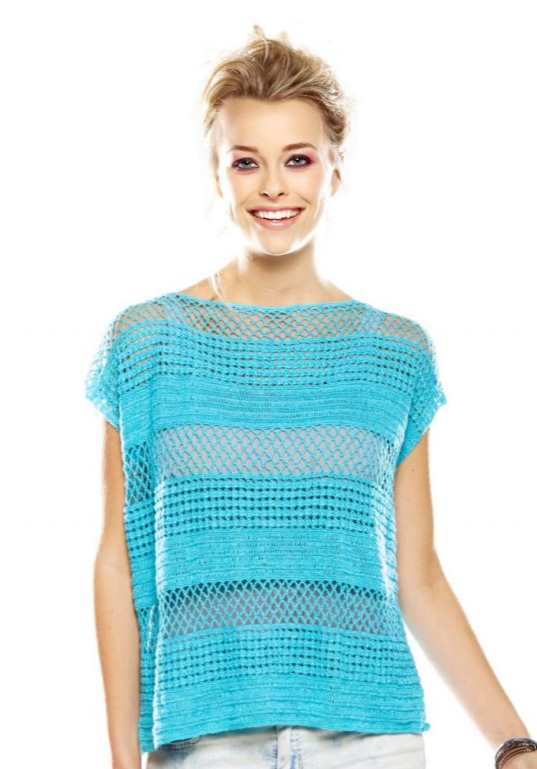 Picture yourself in a flattering top with short, flowy sleeves. Crochet this summery beauty with a pretty openworked feel, in any color you love from all the fresh, modern shades available in our Patons Grace collection. It makes a lovely gift for ladies of all ages.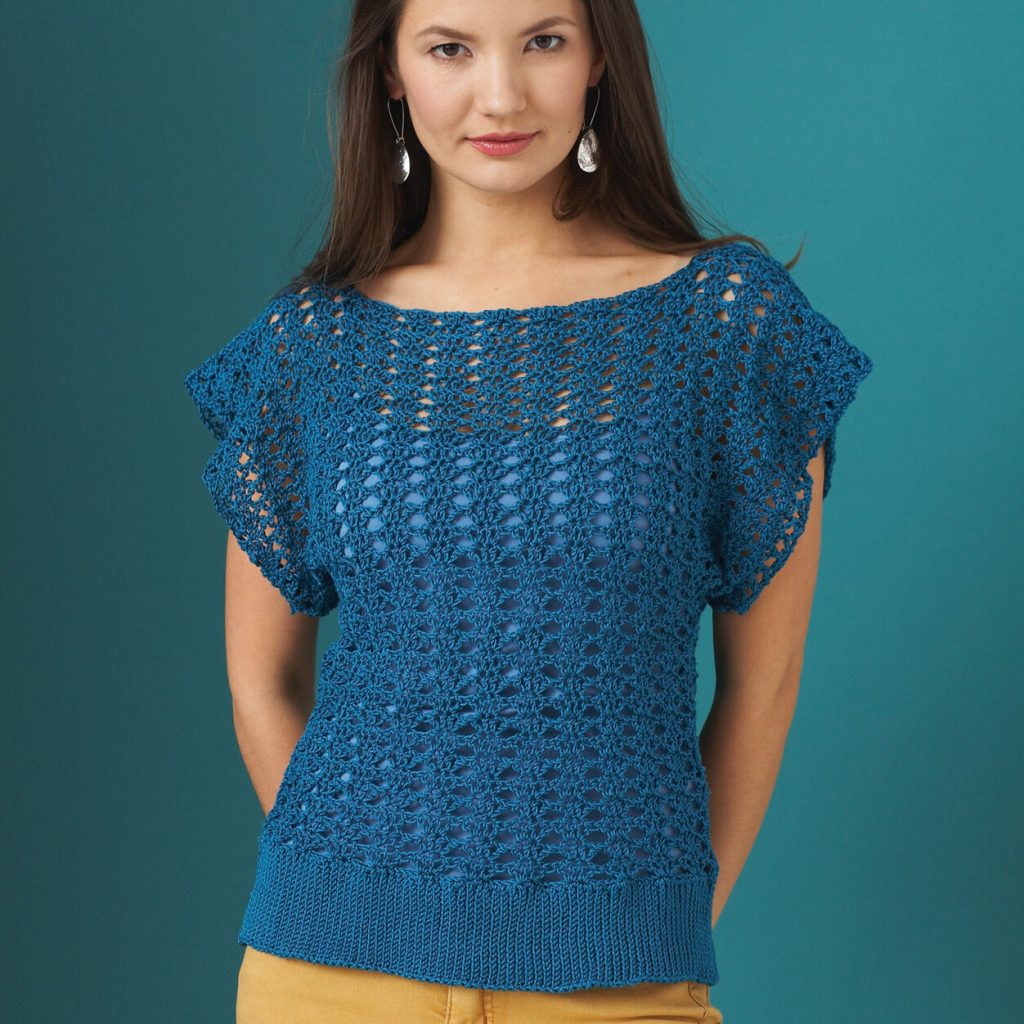 Bright, lacy, and perfect for layering, this lightweight top is a perfect combination of fun and sophistication.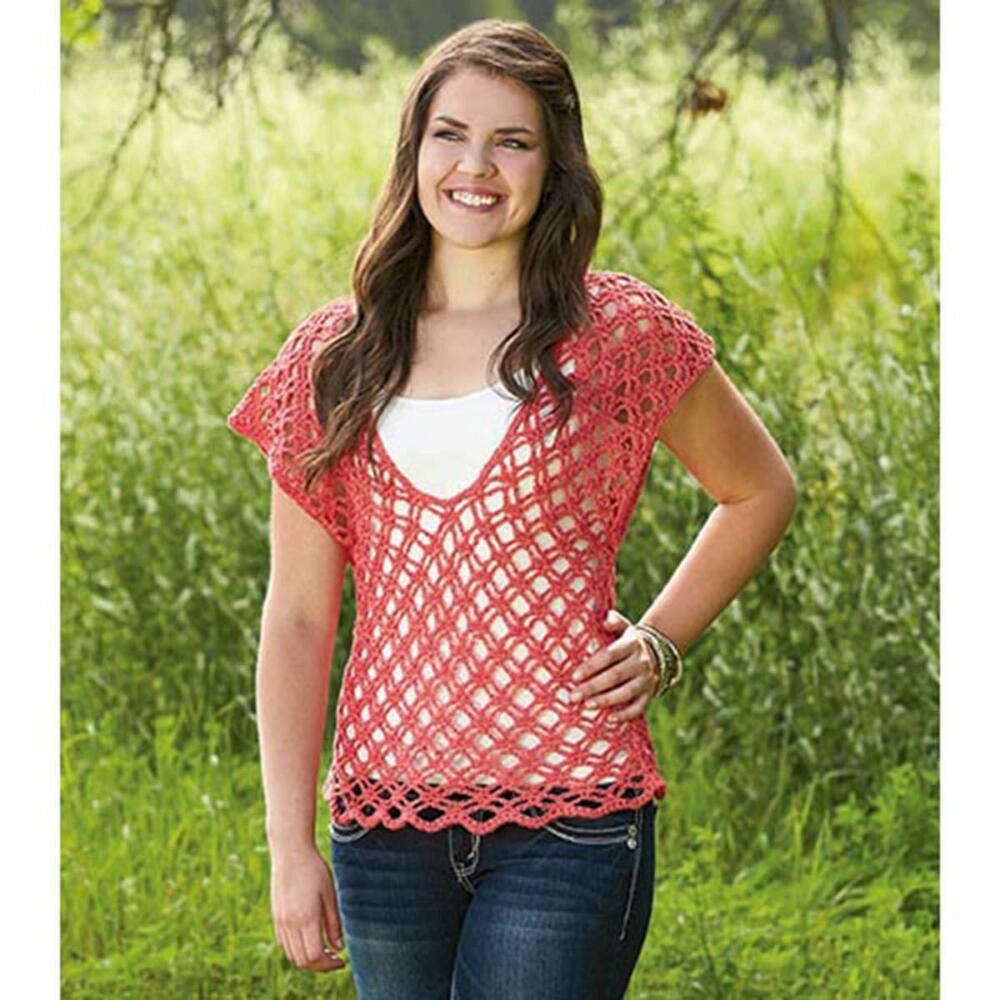 Defined by a lacy, openwork pattern, this crochet Tee is a versatile addition to your summer wardrobe. For the design, we've combined a basic shape with a pretty stitch pattern in Aunt Lydia's Fashion Crochet thread. It's soft in Warm Rose color, or create it in a more neutral tone to complement your whole wardrobe! This project will take less time to complete than you think, so let's begin!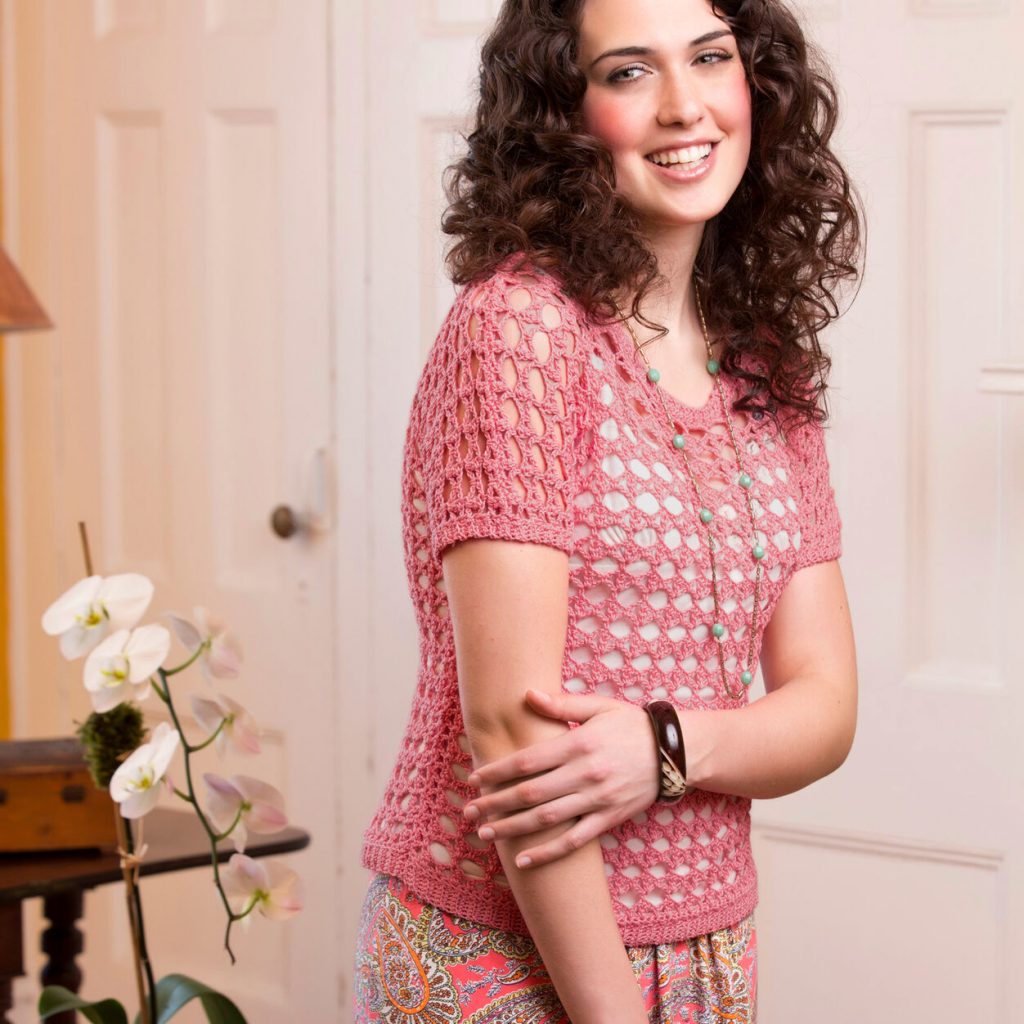 Free crochet tee pattern for women easy. Striped French sweater.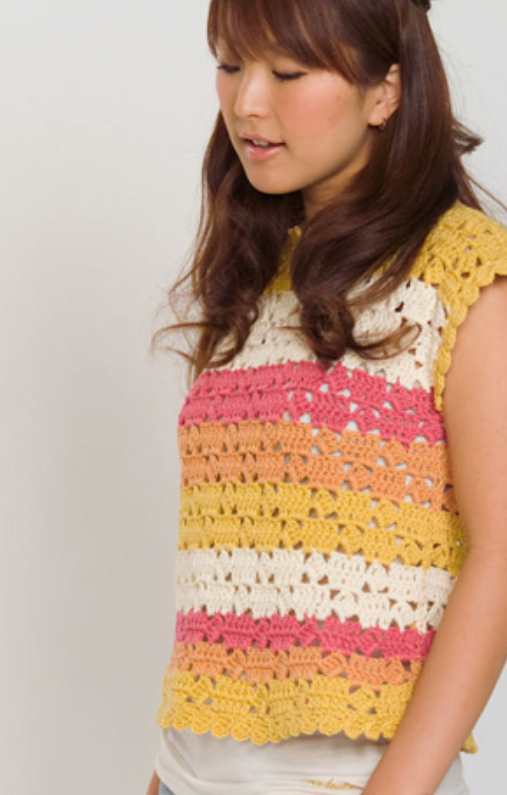 This Kisa Tee is a dreamy cotton top that you will love to wear everywhere you go. It's airy and perfect for summer. The yarn gives the finished project a nice washed look.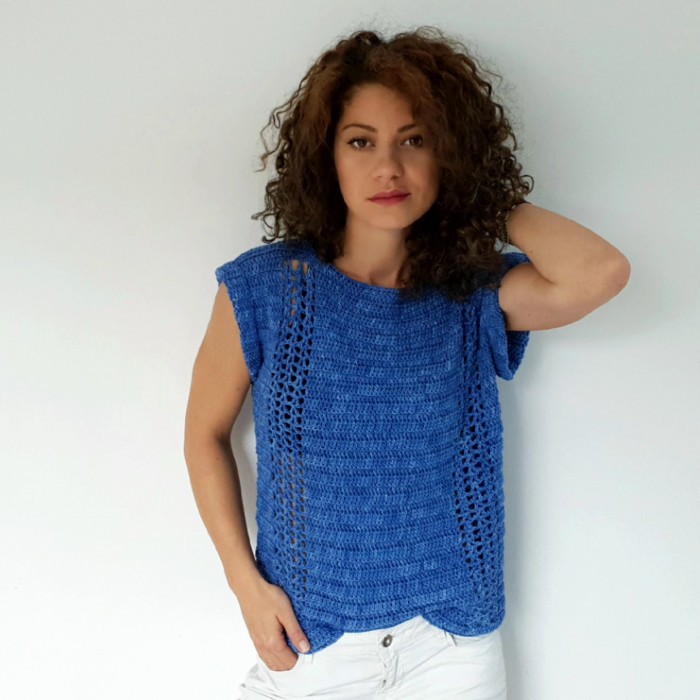 Easy, openwork crochet tee free pattern for women with boxy shape and peek a boo shoulders.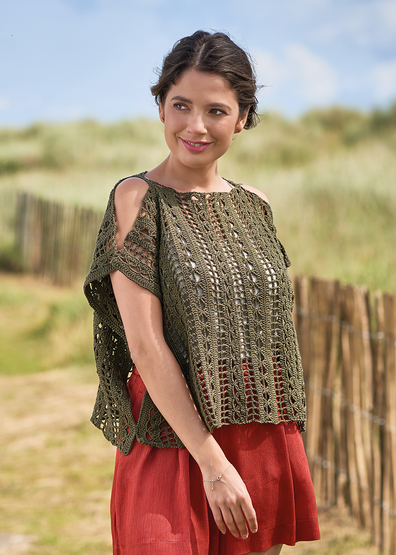 You don't have to be an expert to crochet this top in time to wear this summer. Delicate colors and a subtle pattern combine beautifully in this light top worked in Schachenmayr Catania. The fit is loose and relaxed, keeping you comfortable on warm days.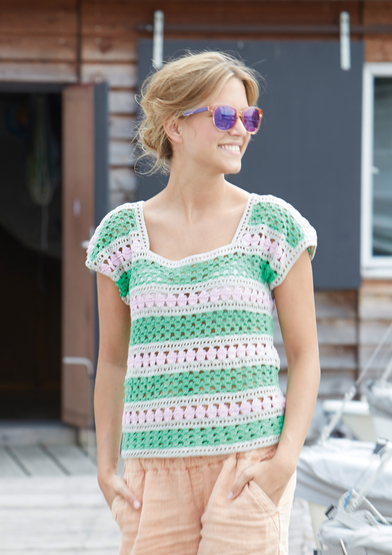 This Holiday Tee is amazing! It has a loose fit so it's incredibly comfortable and super easy to make. You are basically just making a rectangle (square), leaving space for the neck and then repeating the square pattern again. At the end you just sew the sides together. So simple right?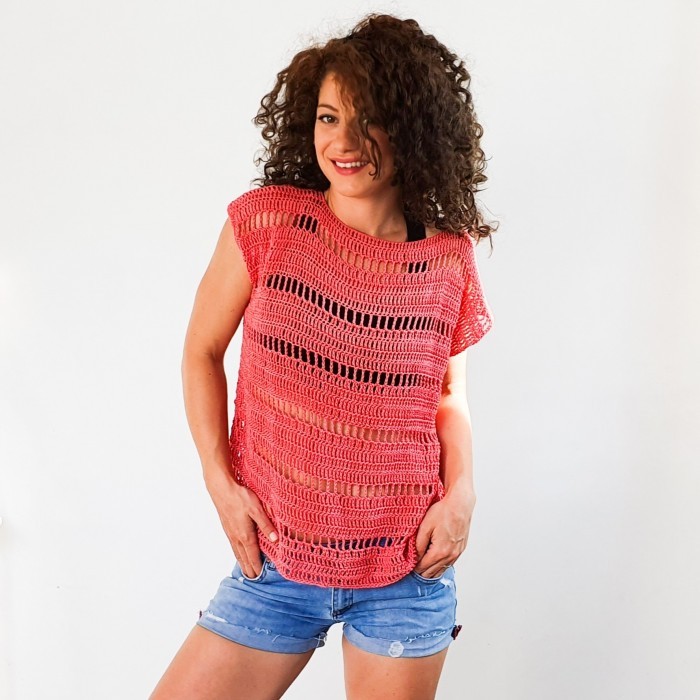 Cute and colorful blouse free crochet pattern.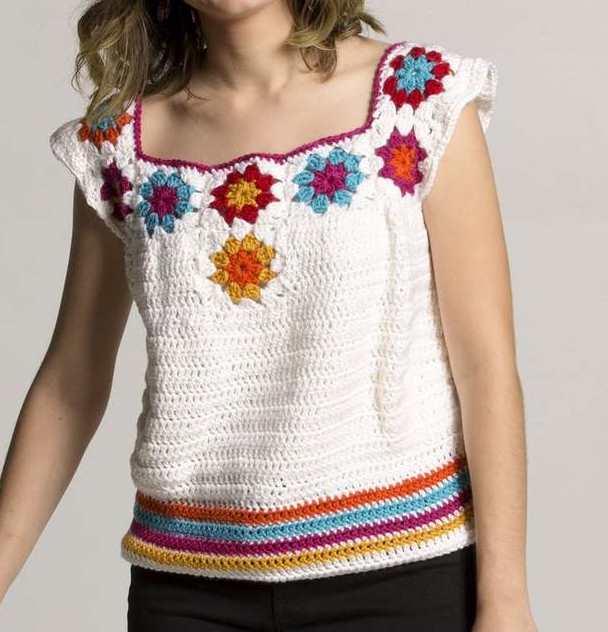 Easy crochet mesh top pattern. Perfect for summer, stylish pattern to use year and year, a classic look.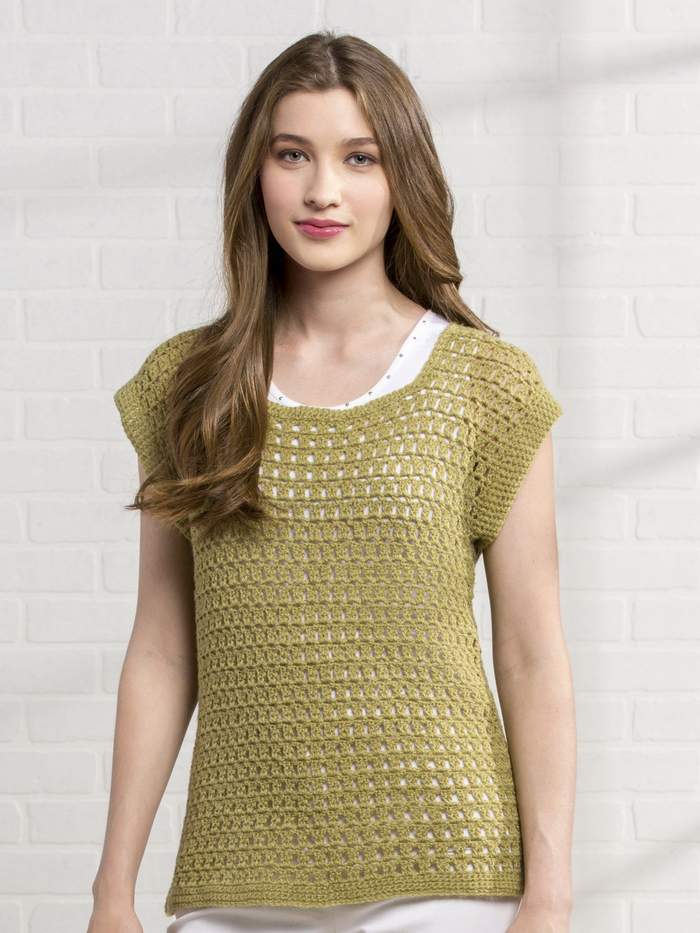 Fresh Hoodie T-shirt lives 100% up to its name! It's fresh in both color and design, and perfect for warm summer days. The T-shirt is crocheted in Rainbow Cotton 8/6 that is available in the most gorgeous colors! The sky's the limit when picking a color palette for this T-shirt.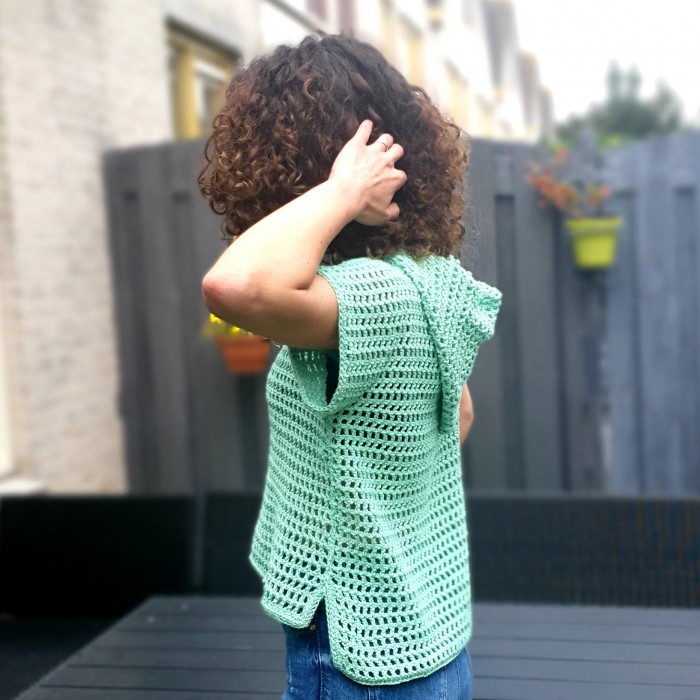 Form fitted crochet top pattern with a pretty lace diamond flower panel along the center front.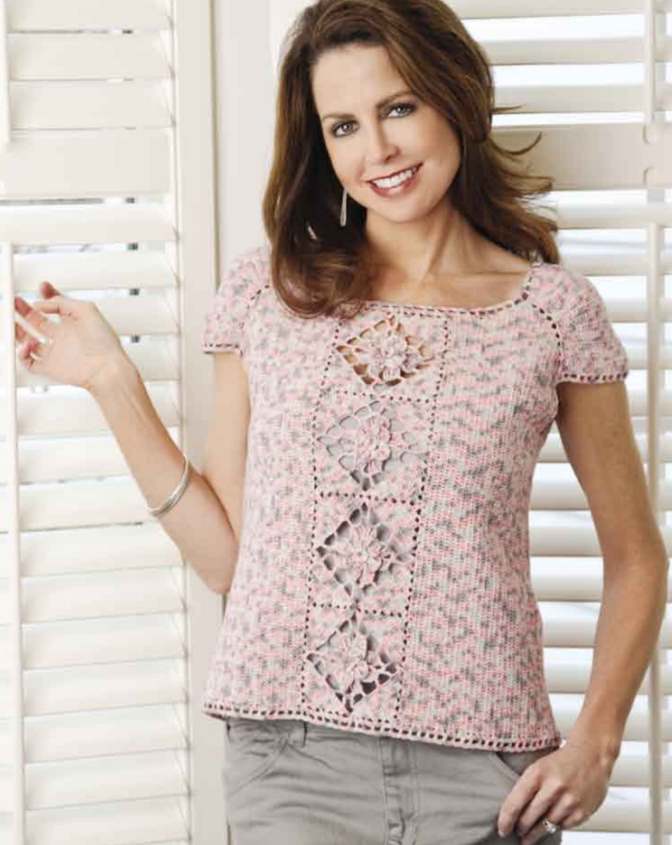 Perfect for work or play, our Openwork Top is a beautiful addition to your wardrobe.

Crochet fans rejoice! You'll have such a blast with this pattern that you might just blast off to Mars. The Mars Tee is great for hot and humid summers. Worked in Cotton Supreme DK Seaspray, this top has just the right burst of color combined with gorgeous stitch work. With repeats that are just 3 stitches by 3 rounds, you'll memorize the pattern in no time.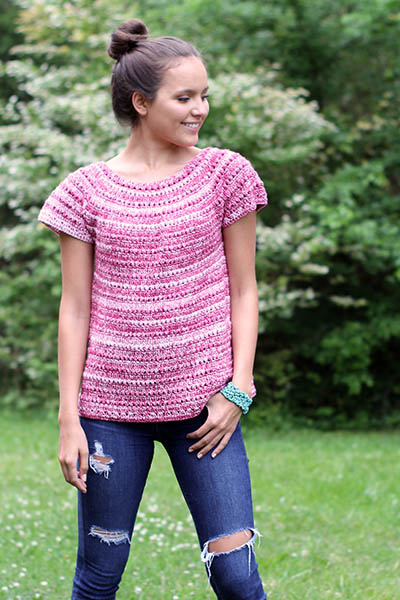 A crocheted shirt reminiscent of a perfect summer day! Whether for a walk down the boardwalk at the beach, a relaxed get-together in the garden or downtown – this airy shirt worked in Catania will be comfortable to wear anytime, anywhere. Even the crocheting will be fun: It is worked in one piece with basic stitches and airy double treble and triple treble crochet stitches – the perfect project even for those new to crocheting. The pattern includes sizes S and L.